PROGRAM
Global Liberal Arts Program (GLAP)
Developing Global Leadership in Four Years
~Overview of the Global Liberal Arts Program Curriculum~

GLAP students accumulate a wide variety of learning experiences in order to become a new type of global leader. After graduation, students are expected to enter graduate programs anywhere in the world, or become active players in multi-national corporations or international organizations, such as non-profit or non-governmental organizations.
Pick Up
Tutorial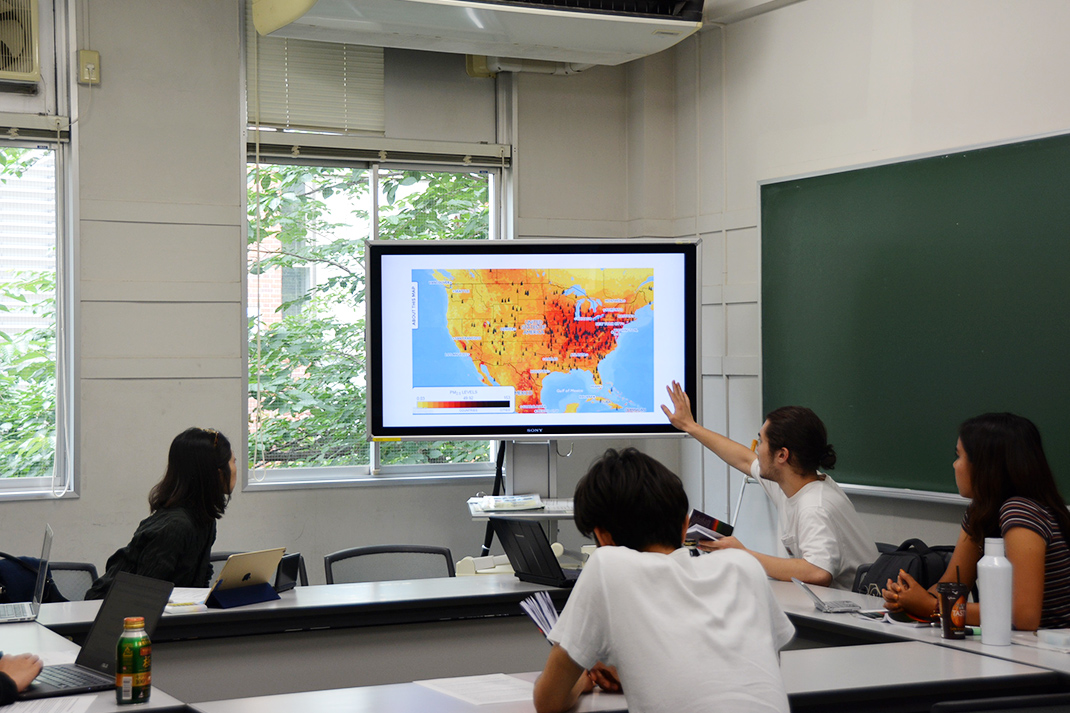 Tutorial 1&2, considered to form the core of GLAP courses, are offered in extremely small-sized classes consisting of a maximum of 5 students. The classes are held once a week during the Spring and Fall Semesters in the 1st year and aim to comprehensively improve basic academic skills such as critical reading, academic writing, presentation which are necessary for university-level learning. Students read two reading materials (topics are selected from areas such as Humanities and Social Sciences) per term. Before each session, students read the assigned materials and prepare for presentations and summary writings. In each session, following the students' presentations, instructors and students confirm their understandings and have discussions. When the class has reached the end of each reading material, students are required to write an essay with research questions. Tutorial 1&2 encourages students' all-round learning through preparation, review and active participation in classroom activities. Full support is provided by instructors, and stimulating interactions between instructors and students are offered. Students may experience hard times as they develop their skills, however, these classes are challenging and satisfying.
GL111(Global Leadership Program)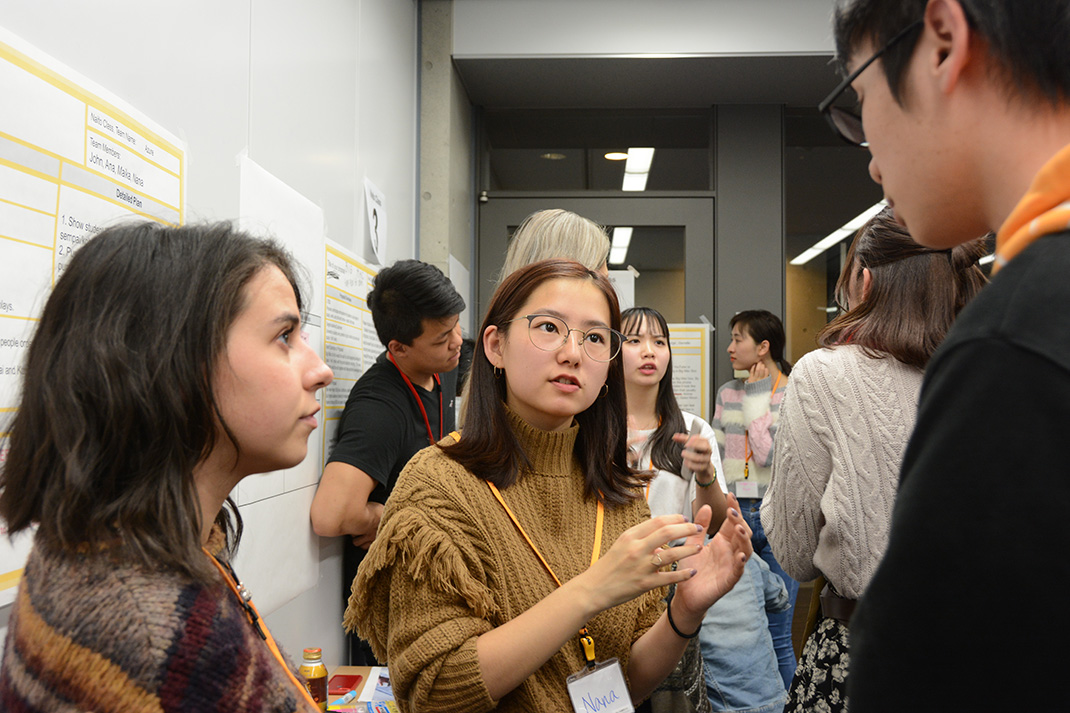 Global Leadership 111 (GL111) is a class in which GLAP students can develop their own individual and differing understandings of leadership through collaborative practice.

The theme of the practice will be shared by real corporations and students can act to create new solutions to the issues in the real world. Students work in small groups to think of new solutions by critically thinking through the issues, setting the effective direction and strategy, and proposing new ideas on how to call actions in the real world. As students work on it, they are encouraged to be conscious of the three minimum leadership essentials sharing goals, setting examples, and enabling others and thus systematically cultivate facets of leadership that may not be outwardly apparent. On the way of its leadership challenges, all the team members have chances to reflect on the teamwork process, performance, and individual leadership one after another.

The learning and finding about themselves will let them notice one's own potential to grow further, and it will be of great use in living a fulfil ling life with developed leadership even after the university graduation. To achieve this goal, faculty members, student assistants (SAs), and administrative staff in Global Education Center will work as one team to accompany you and support your leadership development through GL111 and the Global Leadership Program (GLP) that follows.

Global Studies
~Develop specialized expertise~

Students will select one of the three fields of Global Studies (Humanities, Citizenship, Business) based on the interests will have developed through previous studies and study abroad, and deepen their specialized knowledge and conceptual understanding of the field. After choosing a specialization in their third year, students take "First Seminar," which is offered in each field of study as an important subject to deepen their understanding of Global Studies.

Students will learn what specialization is and the perspectives, theories, and approaches that are essential to conducting research in their field of specialization. In the fourth year, students will decide their own theme, write a Graduation Paper over the course of a year, and present it. This will be the culmination of an organic synthesis of expertise and thoughts in the selected field, as well as knowledge and multifaceted perspectives from a variety of fields that have been acquired over the years.
Humanities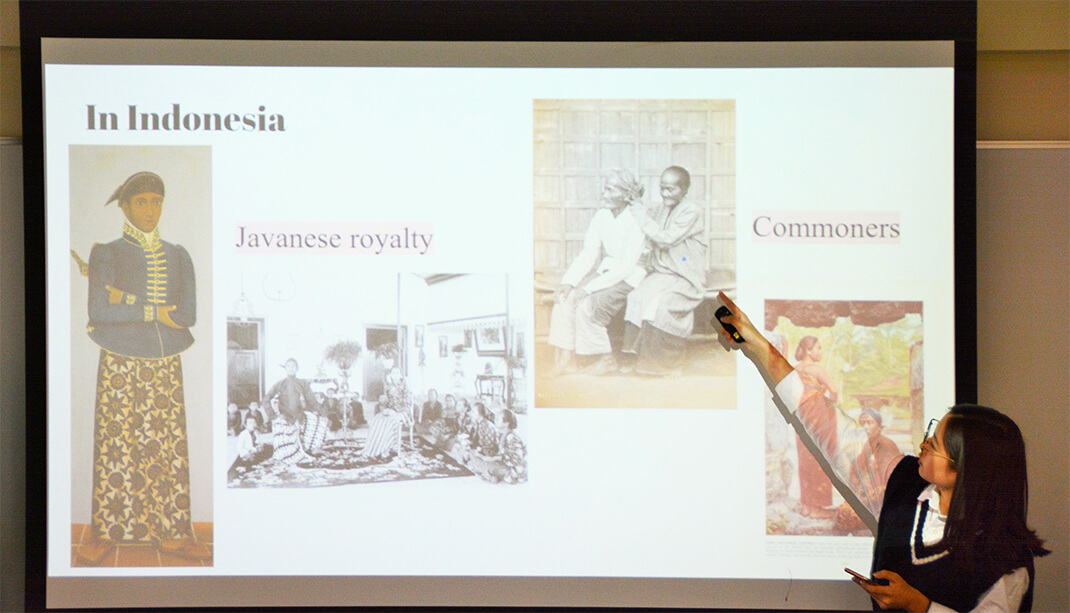 Humanities is one of the three majors offered in the Global Liberal Arts Program. Humanities disciplines celebrate the rich history of human experience, help to us negotiate an uncertain present, and enable us to imagine a better future.

Studies in the Humanities focus on creative expression while embracing the exploration and analysis of those expressions.

Traditionally, Humanities has encompassed disciplines as diverse as literature, history, language and communication studies, the fine arts and performing arts, music, and film studies as well as religion and philosophy . Coursework in the Humanities in the Global Liberal Arts Program requires students to look at literature, art, philosophy , and religion from a comparative perspective and encourages students to make connections between cultures and across history.

In many important ways the Humanities, in its intense focus on human expression and critical analysis, represents the heart of the Liberal Arts experience. The Global Liberal Arts Program, which was founded on the principles of the liberal arts education, is the logical home for the study of the Humanities. Finally, the Humanities offers ideal disciplinary perspectives from which to explore the issues and concerns surrounding globalism. We welcome creative individuals and those who wish to explore creative expression and human thought from a global perspective!
Citizenship
The Citizenship field seeks to nurture students to be global citizens who are responsible, knowledgeable, and active in the global society. Students will acquire ability to think critically and constructively when facing issues and phenomena pertaining to globalization, multiculturalism, human rights, democracy, and sustainability of eco-system, and sustainability of the global society. Students will study a broad range of concepts and theories that have been developed in the relevant social science fields, such as sociology, law, political science, international relations, gender/minority studies, and area studies through a balance of expertise in the social sciences and civic literacy. By exploring multiple disciplines and approaches in the Citizenship field, they will be exposed to various local and global issues. While learning in this Citizenship field, students set their own research themes and topics which they like to put in effort to tackle, and conduct research to make academic achievements. Currently, students who seek employment in international organizations, NGOs, journalism and media industry, or aim to proceed to graduate schools are studying together. The Citizenship field welcomes students who are curious, inquisitive, and active. We hope that you can play an active role in society as a global citizen!
Business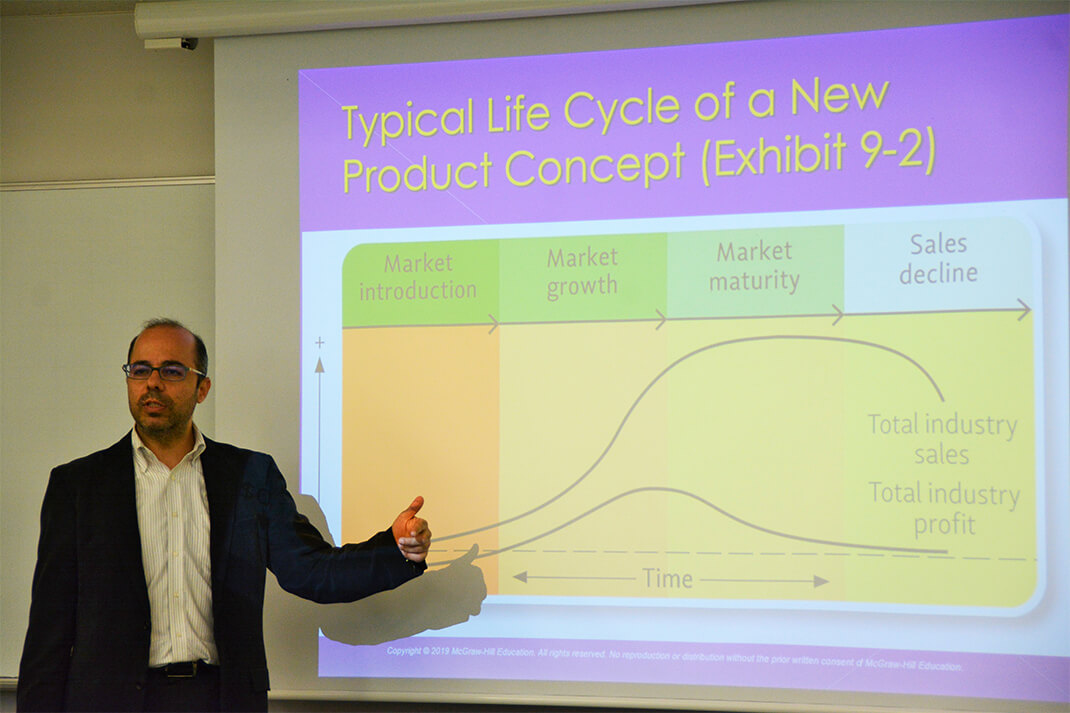 Business field is one of the three fields students can choose under the GLAP. Those liberal arts students specialized in the business field can be the new type of future business leaders. This is because they will have knowledge of not only business, but also of the physiological, historical, political, and multicultural background, which will help them make better judgment when making business-related decisions. By this, they can assist in getting their company on the success path more efficiently. Therefore, GLAP offers a study of business from a broader framework.

GLAP has many advantages that distinguish the students majoring in business, and assist them in taking the lead when it comes to doing business internationally and even domestically, since this approach trains the students to think critically and look at the issues under discussion from various viewpoints.

GLAP at Rikkyo offers the students the chance to build their broader knowledge, based on international study experience, and then to specialize in a professional field, business or any of the other two fields. All of this will assist the students to be more successful and be able to contribute more to the future of themselves, their companies, and their nations.