Small classes fit my shy personality
Tokyo / Junten Senior High School  Yu Nunotani
Apr 25, 2023
GLAP Students
Small classes fit my shy personality
Although I grew up with exposure to English from an early age, including trips and short-term study abroad, when I chose a path in high school I didn't know what I wanted to major in. I knew vaguely that I wanted to develop basic thinking skills through broad-based learning, then specialize in a particular area in order to hone my ability to survive in an increasingly complex world. In this respect, the GLAP curriculum was very appealing since students first do big-picture learning and then move on to deepen their expertise. Another major selling point for me was the small class size (20 students per year), which I thought would suit my shy personality. Once I was in the program, I found the atmosphere to be calm and one of equals. The professors are very good at following up on any kind of opinions while group work deepens the relationship between classmates, so the program makes me feel psychologically at ease and relaxed in my studies.
The class that changed my life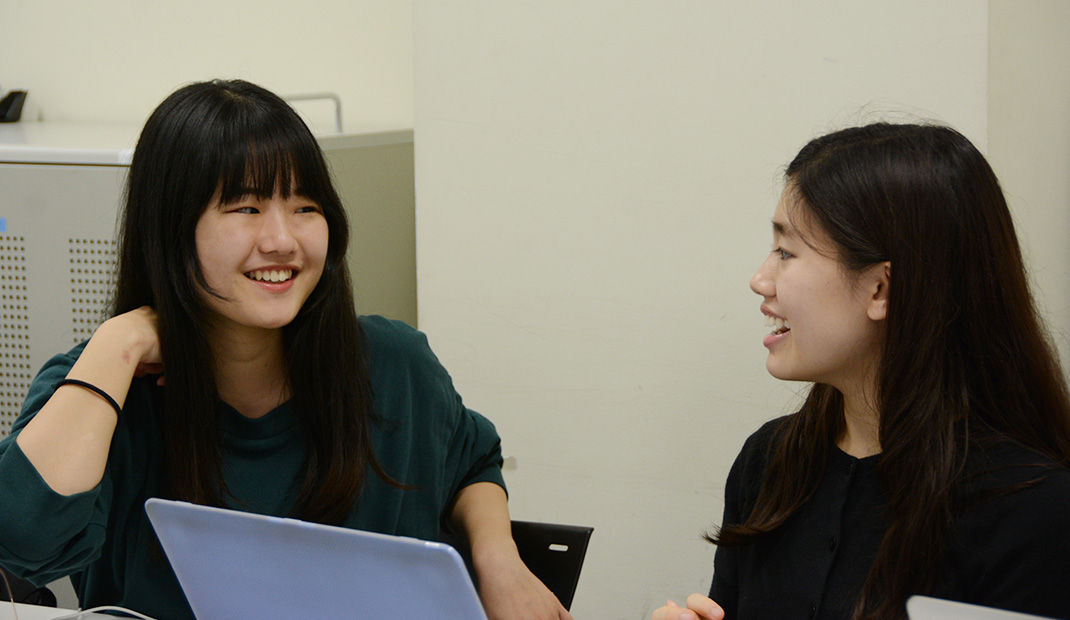 Discussion in class(Left /1st year)
Each GLAP class has left an impression on me, but the International Business class in the spring of my second year changed my life. There, I learned about the social business model, which seeks to simultaneously solve social issues and expand profits. In this course, I found a clear goal and decided to major in business. As part of the class, we had to work as a team to propose a new business model, so we had many discussions outside of class. In the weeks leading up to the presentation, team meetings would take place over several days, and sometimes a meeting could last six hours or more. I think that GLAP approach makes this kind of concentrated learning possible. Things are usually low-key, but when it comes to classes, each and every one of use does not compromise and strives to give the best presentation possible, inspiring each of us to do our best. GLAP has such a good atmosphere.

A true global experience studying abroad in Hong Kong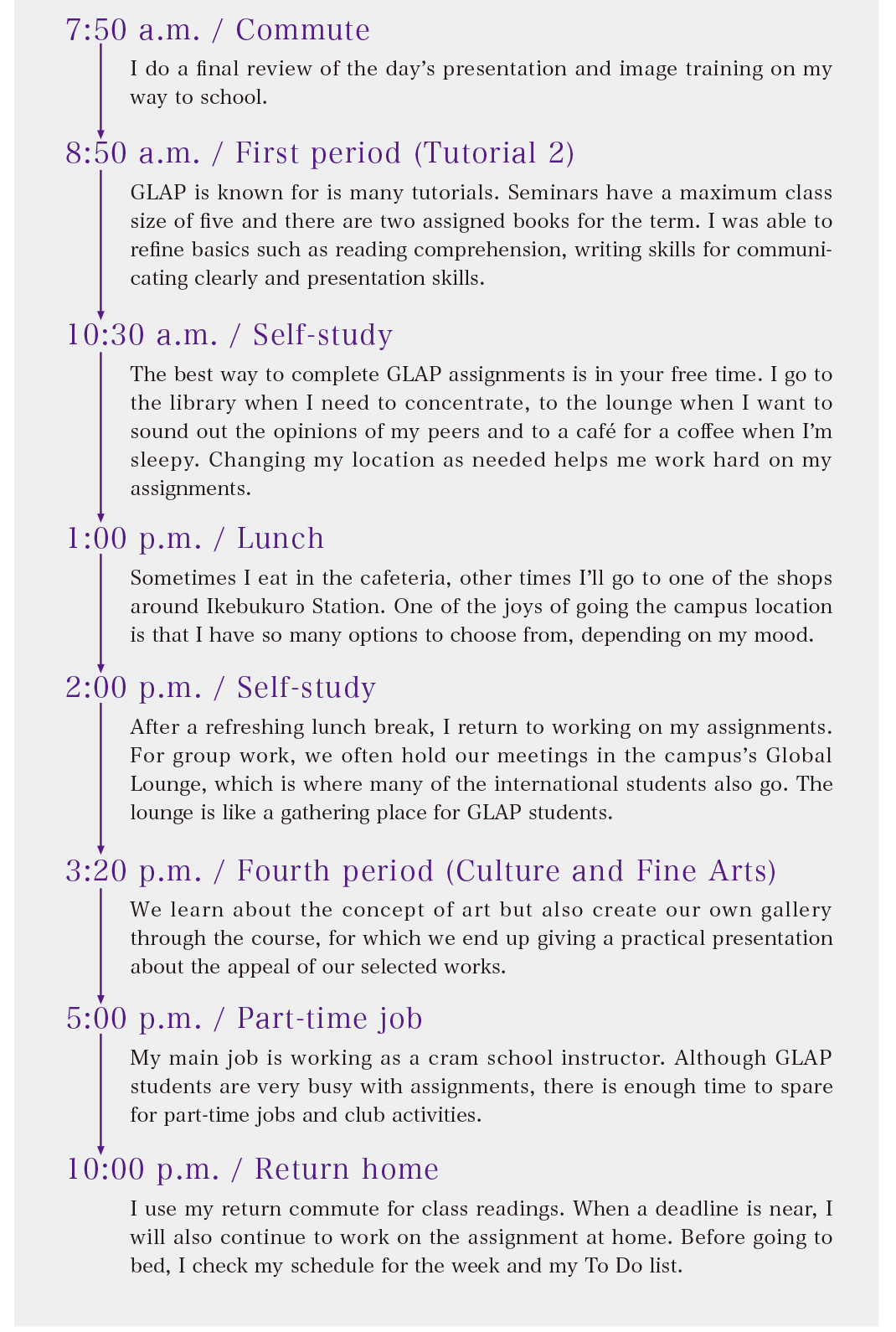 For my third year, I studied abroad at Lignan University in Hong Kong, which is Asia's most important business hub. During my time there, I felt that being "global" was more common in Hong Kong. The outlook there encompasses not only developed countries in the West and neighboring countries but also the all continents of the world and the open atmosphere comes from having English as one of their official languages. Although both Hong Ko ng and Japan are part of East Asia, the atmosphere of each is completely different. In Hong Kong, I think I experienced what being "global" is in the true sense of the word, and the time I spent there was the most intense experience of my life. I plan to attend graduate school after GLAP, where I want to delve into the relationship between social business, Gen Z and the media in terms of content marketed at Gen Z. I am confident that the multifaceted viewpoints I developed through GLAP will be very useful when I enter the workforce.

*as of the time of this interview